Cricket and the Lawn Mower
For English and Australian fans, cricket doesn't get more exciting than the first day of an Ashes Test Series. In recent series (in England and Australia) we have seen the home side winning and it's now been 18 years since Australia won the Ashes in England. Over the next few weeks we'll find out if this home advantage can be broken. Before a ball is bowled it looks like it could be close but cricket has a way of throwing up surprises. Good luck to both sides - with members in both countries (and other cricket-playing countries) we can't be too partisan, but...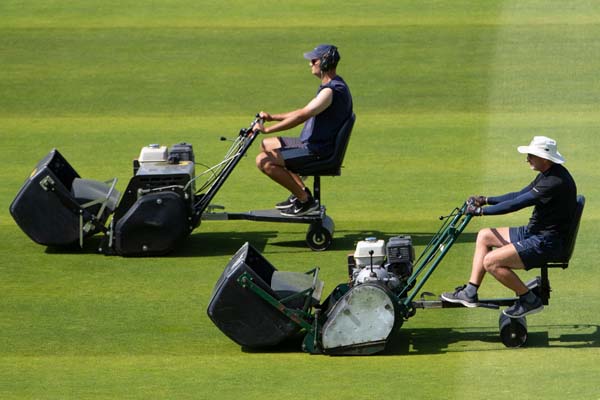 Mowers at works at Lord's Cricket Ground, London
The lawn mower - it could be argued - played a significant role during the 19th century in the development of all major sports - including cricket - played on grass because it enabled clubs (and their ground keeping staff) to prepare the surfaces more easily and quickly. Lords - the home of the MCC - claims to have bought its first mower in 1864 to remove the "necessity to keep sheep!" and the same year they relaid the field. All first-class cricket clubs and countless non-league, town and village teams all around the world still rely on their mowers to help them prepare their grounds for their games. How much of this would be possible without the invention of the lawn mower?
Pony mower at an unknown cricket ground in England, probably 19th century